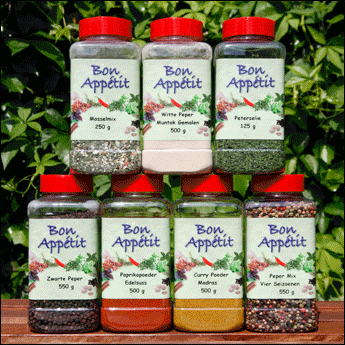 Foodservice

S&D Foods NV is for many years a reliable supplier of a vast range of dehydrated vegetables, herbs and spices to the food industry with customers throughout Europe.

On the one hand this could be realized by using an extensive network of carefully selected suppliers in origin. On the other hand is S&D Foods well-positioned by means of her in-house cleaning facilities to comply with the ever stricter customer specifications. From this ideal position we have recently started offering our product range to the Foodservice sector as well.

Under the deposited brand name Bon Appetit we offer a complete range of dehydrated vegetables, herbs, spices and mixes. We have sufficient capacities to source then best possible products for you and to fill them in our special food service packaging.

Our products sourced from the best origin suppliers will enter directly into your kitchens without any unnecessary distribution channels. Only this way u as a professional user will always be able to get the best quality against the lowest price.

For more information regarding possibilities of our

Bon Appetit

range you are free to contact us.